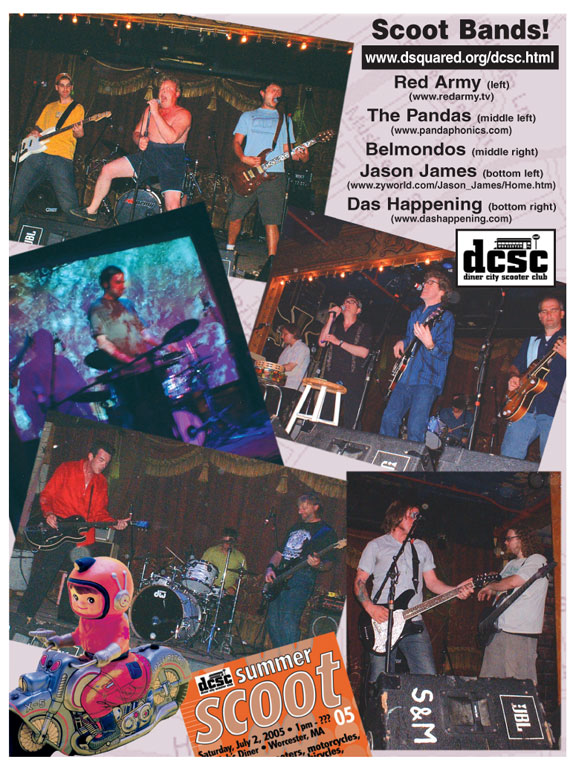 (from Action Geek #29)
Bands at Summer Scoot '05!
(click for bigger image)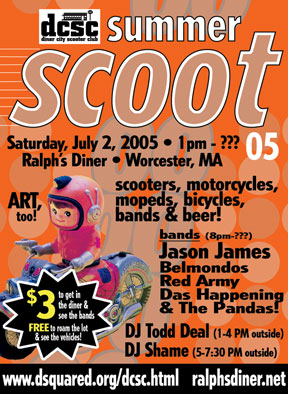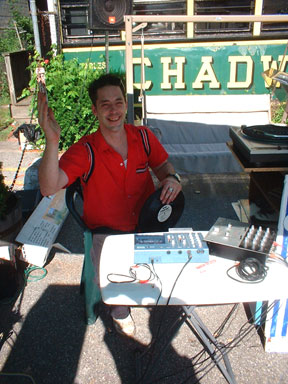 DJ Todd Deal
(click for bigger image)


Wow... Thank you very much to EVERYONE who
showed up for Summer Scoot on Saturday. I don't
know if anyone did an actual scoot'count, but I
guesstimate that at the height of the scoot, there
were about 45 scooters, 4 mopeds and a bunch of
motorcycles, not to mention a few bicycles as well.

I was so greatful for the good weather and the good
spirits that everyone seemed to be in.

Some highlights for me anyway were:

- Getting my caricature done by Scott Hamilton

- The long ride around the Holden Reservoir with
Max on his Stella and Rich on his Mojito,
tearing around at top speed (sorry, Alan, we
would have probably left you in the dust)

- The 4 mopeds were great to see at Summer scoot!

- I was surprised to have Pattio & the Javaspeed
crew show up. I hadn't gotten confirmation from
them ahead of time, but they showed & had fun!

- Showing Gretchen the upstairs of Ralph's Diner -
band area and letting more people from outside
of Worcester know of the coolness of Ralph's!

- Watching Worcester fireworks from the parking lot
(next year we might set up a stage right there for
watching bands and watching fireworks!)

- DJ Todd Deal & DJ Shame were PERFECT for
this event! GREAT great combination of laidback
summer scoot soothin' tunes... Hopefully I can
pair these two up for some more summer DJ-ing
outside!

- Special thanks to the Boston Stranglers
and the Death or Glory scooter clubs for
representing and doing their part to help
support Diner City Scooter Club's event!

- The bands... ALL were fabulous...
Belmondo's totally rocked
Red Army always scares the crap out of me
Das Happening was definitely happening
The Pandas were hypnotic, trippy & different!
Jason James brought down the house!

There's more peoples to thanks, but let me just
THANK EVERYONE who did anything to help out
in making this a fun fun fun summer event and a
milestone in my event creation career (even as I'm
just starting out).

Crazy Dave, Vincent, Maryanne, Danielle, Scott,
Bartender Mike, Dawn... thank you thank you, thank you.

This is SO an annual event now.

Mark it on your calenders for NEXT year.