Welcome to
the website
for all of
dsquared's
various ventures
such as:
Action Geek
comic'zine and
Geekspeak
online
review 'zine.

***************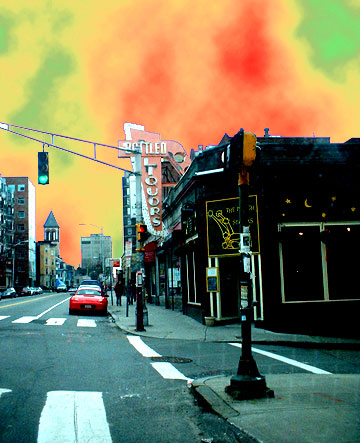 dsquared
GALLERY
of artwork & design
projects...

***************

Oh...Please sign the
guestbook



***************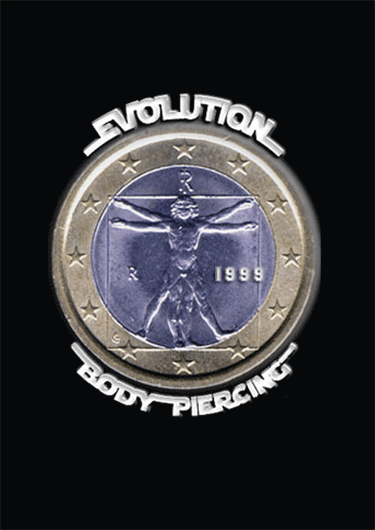 Evolution Body Piercing
Providence, RI
(click here for bigger ad)

***************



Pottymouth
Pin-Up Grrrl, Retro-Themed
pillows, light switchplates,
custom toilet seats,
fashion accessiories,
clothing and MORE!

Potty Monsters
coming soon!!!

***************

Upcoming EVENTS




GAME NIGHTS at
Ralph's & Vincent's
(Worcester, MA)
Sun - 5-9pm at V's
Tues - 6-10pm at R's
$5.00 to play
$4.50 if u RSVP
Prizes & Fun!
(sponsored by Narragansett Beer!)

***************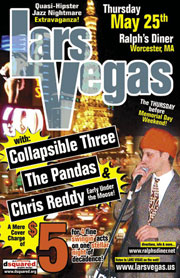 LARS VEGAS
Collapsible Three
The Furies
The Pandas
Chris Reddy
all at
Ralph's Diner
(Worcester, MA)
May 25, 06
Thursday before
Memorial Day Wknd
$5.00 cover

***************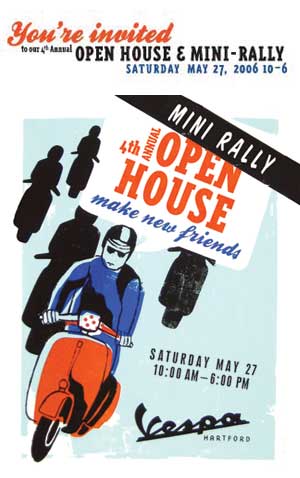 Sat., May 27th
10am-6pm
Vespa Hartford
161 Woodford Avenue
Plainville, CT
(**Diner City will
be there!!***)

***************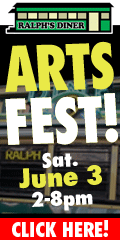 SIGN UP &
MORE INFO
Sat., June 3rd
2pm-8pm
Ralph's Diner
Worcester, MA

***************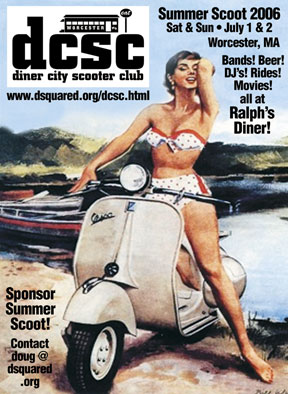 Summer Scoot '06
July 1 & 2, 2006
at Ralph's Diner
Worcester, MA
more info

SIGN UP TO BE AN
EVENT SPONSOR! Current Sponsor List ***************

Rhode Island Rally
July 14-16, 2006
more info
***************

stART on the Street '06
Park Ave. Worcester
(btw Pleasant & Elm)
Sun, Sept. 17, 2006
(raindate Sept. 24)
more info
***************

British Iron
Motorcycle Show
(Oxford, MA)
Sept. 24, 06
(DCSC will
be there!)
***************

Western New England
Scooter Rally
(Northampton, MA)
October 7, 2006
more info
***************

The Larz Anderson Classic
European Motorcycle Day
(Brookline, MA)
October 8, 2006
more info
***************


e-mail Doug
Welcome, Action Geek.
May I take your order?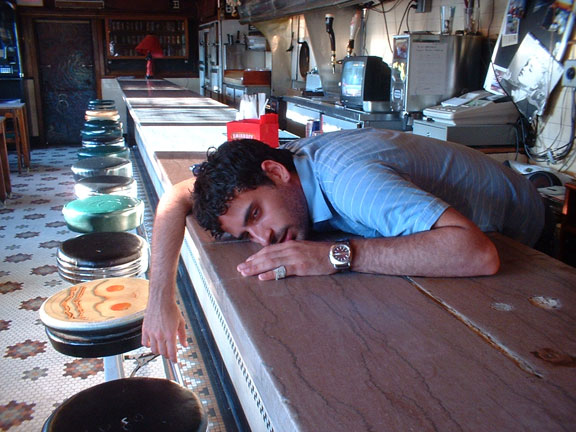 Sunday late afternoon & late night with Ted
at Ralph's Chadwick Square Diner. Yee Haw!


---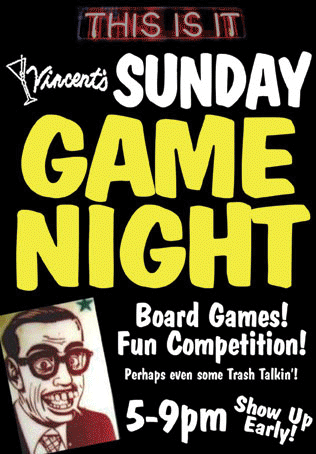 (click above for more event info!)


---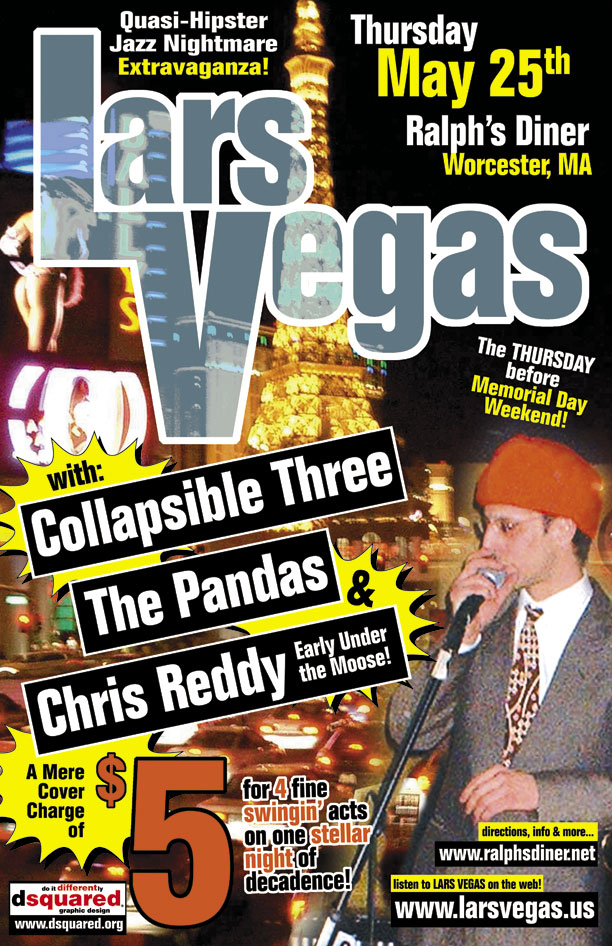 Hear LARS VEGAS' music!
(Ralph's Diner Website & MySpace)


---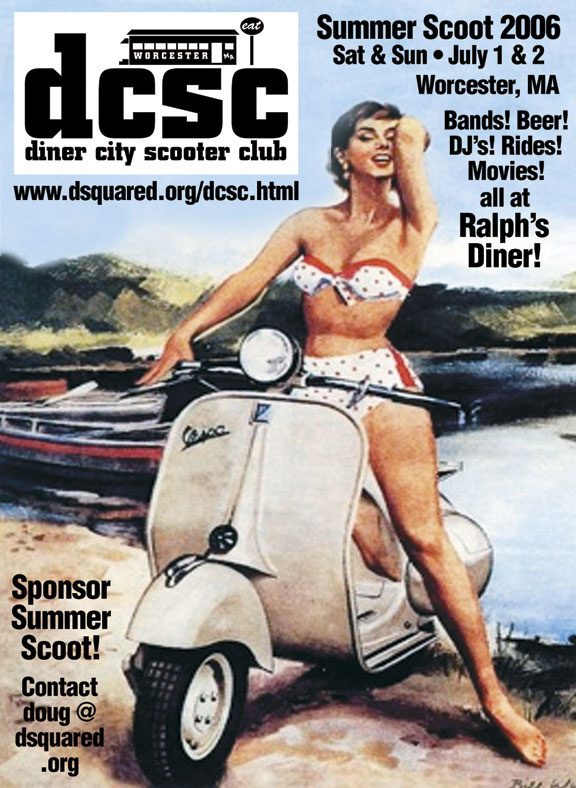 (click image & find out more!)


---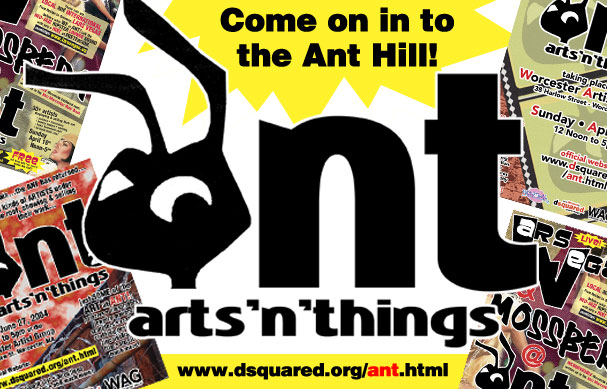 ANT! (Arts'n'Things)


---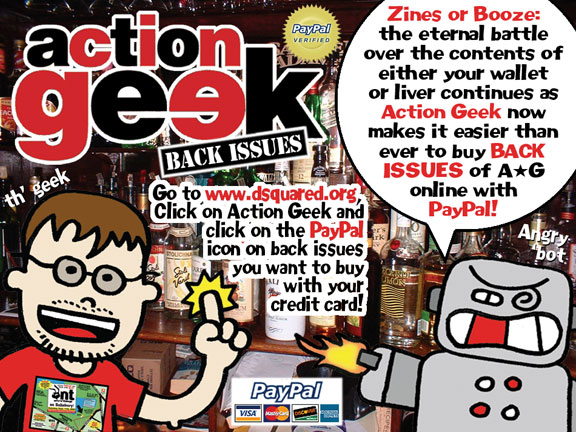 (Go buy some back issues already. Please.
Click now. Get it over with.)


---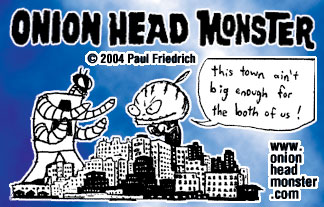 Read Onion Head Monster online!


---

---


Read Pirate & Alien comix online!


---

(Worcester Classified Listing Service Thing!)


---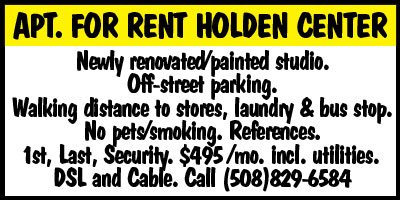 Apt. for Rent
in Holden Center
(click to red!)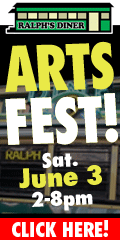 SIGN UP &
MORE INFO!


dsquared tracking
map'o'the world!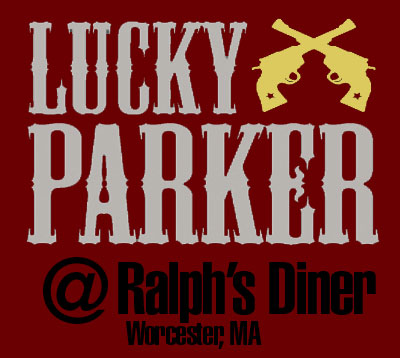 Live Show Photos!
other photos!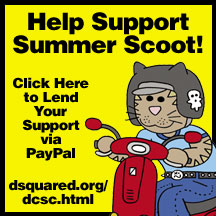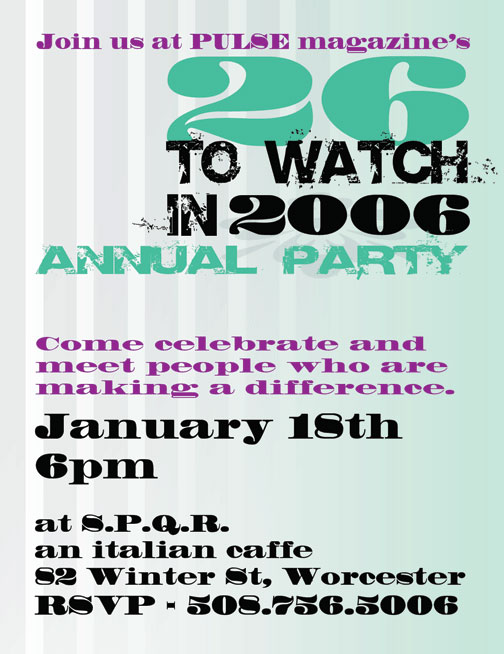 (and Action Geek is
one of those to watch!)
***************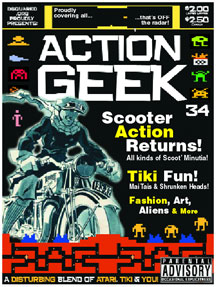 ACTION GEEK 34
online &
ready to read!
ready to read!

BUY ONLINE
or at
That's Entertainment
Park Ave., Worcester
***************


Worcester Magazine
publishes Action
Geek cartoons
on a bi-weekly
basis...
Check 'em out...

***************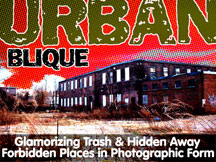 Urban Blique
Glamorizing Trash &
Hidden Away Forbidden
Places in Photo Form
***************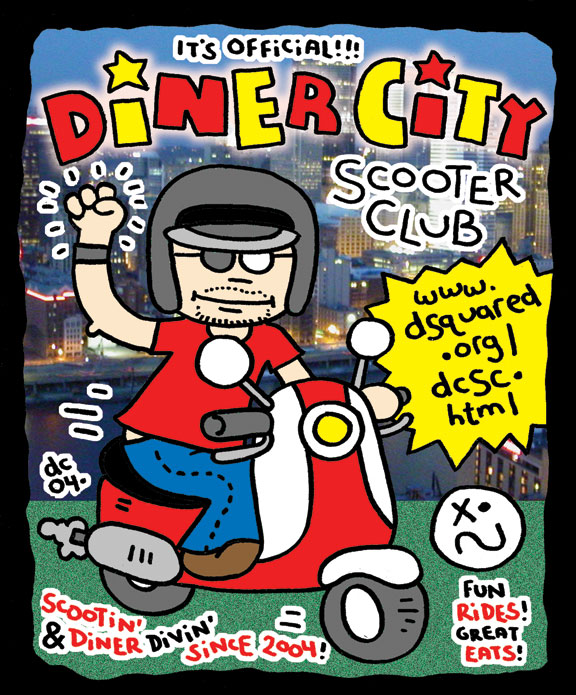 Diner City Scooter Club
now forming in Worcester
for FUN RIDES, MEET &
GREETS at Diners and Bars
in & around Worcester.
(All scooters welcome!)
***************


Need graphic
design work?
A logo? A t-shirt?
Flyer? Biz card?
Check out the
dsquared
design area

***************

Action Geek on
myspace:





***************




ActionGeekBlog
(overflow addendum to the 'zine!)

***************

BARS worthy
of mention:

Vincent's (Worcester)
Ralph's Diner (Worcester)
Guertin's -
(Southgate & Grand, Worcester)
Union Blues (Worcester)
Waterfront Mary's -
(Located on Webster Lake - Webster)
Century Lounge (Providence)
Decatur Lounge (Providence)
Red Fez (Providence)
Tazza Caffe & Lounge (Providence)
Bomboa (Boston)
B-Side Lounge (Cambridge)
Petes Candy Store (NYC)
Remote Lounge (NYC)
Jello Bar (Montreal)
GoGo Lounge (Montreal)
Tokyo Bar (Montreal)


Coffee Shops
& Other Oddities

Coney Island Hotdogs (Worcester)
Java Hut (Worcester)
Victoria Station Cafe
(Putnam, CT)