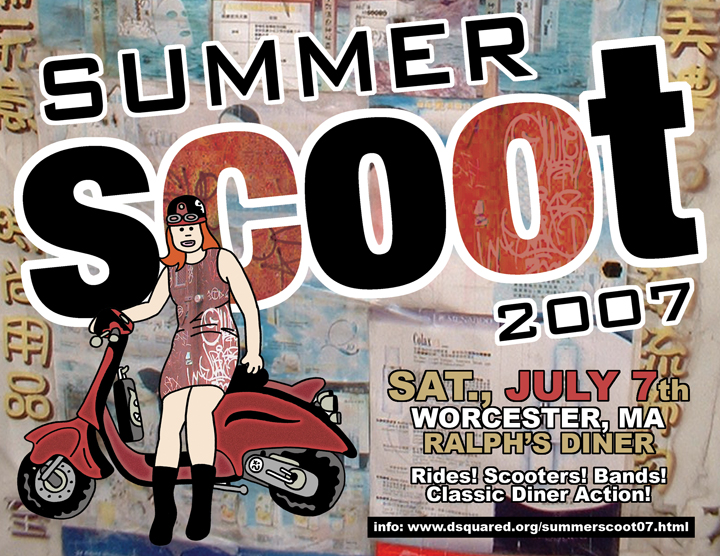 *** ADDITIONAL INFORMATION ***

RALLY PACK info:
Official Rally Packs will be distributed to those who signed up ahead of time
AFTER the Get Out of Town Ride on Saturday, July 7th, after 4:00pm or so.

It isn't necessary to actually go on the Get Out of Town Ride to get your Rally Pack, but you DO
have to actually be AT Ralph's Diner in person to pick yours up after 4:00 pm.

There will be other merch available for purchase as well...

Words of advice...

1) Ralph's Diner will open at 4:00 PM, their normal opening time, on Saturday.

2) If you are going on the Get Out of Town Ride, it will leave promptly
at 2:00 pm from Ralph's parking lot by the diner sign by Rainbow Furniture.

3) GAS UP and visit the restroom BEFORE the ride. There is a SHELL
Gas Station just up the street from Ralph's (take a right out of Ralph's parking lot).

4) The Get Out of Town Ride is about an hour & 45 minutes long.

There will be stops at Bancroft Tower off Highland Street in Worcester (photo opps),
the Old Stone Church in West Boylston (Rt. 140 / 12) (photo opps, hot dogs, sodas, etc.)
and then a brief stop at the Clinton Dam (Rt. 70) (photo opps.).

5) Bring your CAMERA, extra batteries for your camera, rain gear (just in case),
and if you're riding solo, you might want to bring a spare helmet
in case you meet someone who might want to go for a ride on your scoot with you.

THERE IS NO CHARGE TO BE AT SUMMER SCOOT, but...

a) You must be 21 years of age or older to be inside the jersey barriered-off "patio" of Ralph's
or anywhere inside the establishment. It's ALL-AGES outside in the parking lot
where the scooters are parked.
b) Of course, it's 21+ to drink WITH PROPER I.D. No drinks are permitted outside
of the jersey barriered "patio". And we highly suggest getting a nearby hotel room
if you plan on staying and enjoying yourself at Ralph's into the night.

c) The DJ's performing outside will be FREE for all,
but there will be a cover charge to get in to see the bands
playing later on in the night.

So...

Weather's looking good for Saturday and I can't wait
to see everyone at Summer Scoot '07!!!!