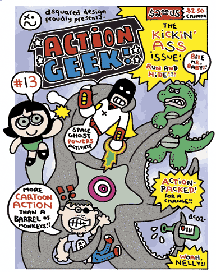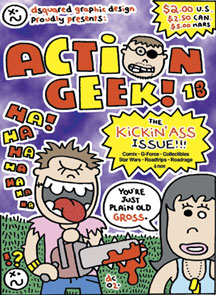 Action Geek #13
"Behind-the-Zines of Issue #13

Presented in PDF format so as to eliminate some of
the tedious coding, formatting work that has previously
gone into creating the web version of each issue AND
eliminating some of the time it takes YOU the reader and
your computer to upload the images that usually took
LONGER than most people cared to wait.

Remember to set Acrobat Reader's SIZE to 100%!!!

PLEASE email me and let me kow if you LIKE or
DON'T LIKE this new format on the web for AG.




Action Geek #13 ­ pages 1-7
Action Geek #13 ­ pages 8-19
Action Geek #13 ­ pages 20-32

Click these links to view a PDF version of Action Geek
that can be read & printed out with Adobe Acrobat Reader





(Acrobat Reader is FREE program for both Macs & PCs)
NEW Action Geek #14 comes out September 2002!!!


click here to return to the dsquared.org main site