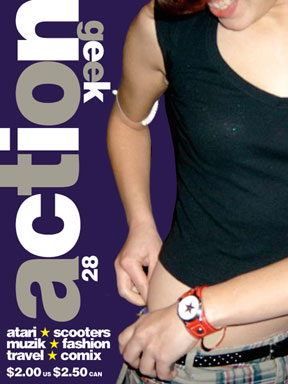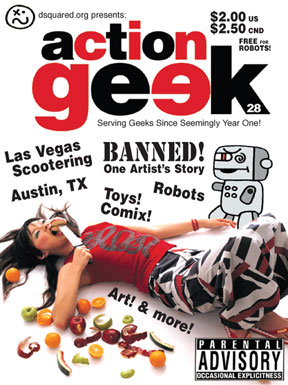 Action Geek #28
For some reason, this issue of Action Geek has alot more
of a STUFF magazine kind of feel. Maybe it's the addition
of all the women, maybe it's that the focus of this 'zine is
so much on design more than text. But at the same time, this
issue has two real great stories: one on an artist being
banned from an arts festival and the other being a travelogue
of Austin, Texas. And then there's the usual barrage of art,
style, gadgets, and other geeky stuff...


| | | | |
| --- | --- | --- | --- |
| page 2 | page 3 | page 4 | page 5 |
| page 6 | page 7 | page 8 | page 9 |
| | | | |
| --- | --- | --- | --- |
| page 10 | page 11 | page 12 | page 13 |
| | | | |
| --- | --- | --- | --- |
| page 14 | page 15 | page 16 | page 17 |
| | | | |
| --- | --- | --- | --- |
| page 18 | page 19 | page 20 | page 21 |
| page 22 | page 23 | page 24 | page 25 |
| page 26 | page 27 | page 28 | page 29 |