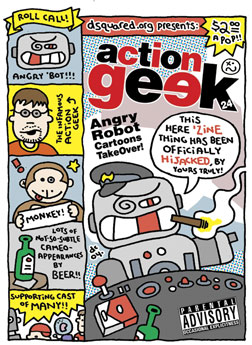 AG 24 cover

Action Geek #24
Not to toot my own horn or anything, but I really think that
THIS issue of Action Geek (#24) is phenomenal.
It's 90% cartoons. Most of it was created spontaneously and
loosely as opposed to painfully thought-out and thought-over
too much. Some of the cartoons were done on-location and I
tried to show before & after(s) so you the reader can see
that we here at A-G are trying to loosen up style-wise
a lttle bit. A good number of the cartoons herein were made
even without the use of our standard cork-backed ruler...
We're producing comix/art on the edge here...

Lots of good reading... Let me know whatcha think...