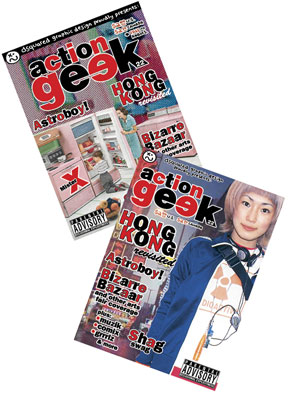 AG 22 covers

Action Geek #22
Hello and welcome to Action Geek 22.
It took a little longer than usual to get this particular
issue out... maybe it was because Christmas and New
Years fell into out little production schedule. Maybe it's
because I was too busy doing cartoons for Worcester
Magazine, putting out ART ATTAK! and travelling to
Hong Kong again, but it's here now & that's all that matters!

This issue has ALOT on my recent trip to HK as well
as alot of quirky articles on stuff FROM the Far East
like QOO, Astroboy and Microman. Then we segue right
on over to the world of local arts events like the
AS220 Bizarre Bazaar and Worcester's very own
stART on the Street, leading up to the ANT! event...
Lots of good reading... Let me know whatcha think...