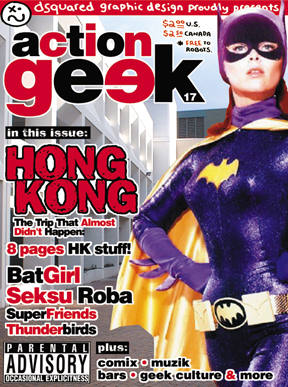 Behind-The-Zines #17
Action Geek #17 was finished up right after the big trip to
Hong Kong for vacation, Chinese New Year's... the whole shebang...

The Cover
Why Batgirl? One snowbound Saturday I was bored and
Cheryl called me up to tell me that there was a Batman rerun
on tv. So I watched some of it. It was really stupid, but after I left
the tv, I did some random research on Batgirl and found
some great pictures and information about Yvonne Craig and
then started screwing around with a couple cover designs incorporating
Batgirl into the design. I added a background of the parking
garage at the Worcester Galleria / Outlet Mall and there you have it...

The Hong Kong Trip
I had allotted 8 pages for coverage of the trip. 2 were done way ahead
of time, showing major attractions & points of interest in HK. 2 more
were done when I started playing around with pictures from the hotel's
website and later on I filled in the text / what I thought of the hotel.
But the remaining 4 pages and this inside cover were done when I was
physically (if not mentally) back in the US, photos in camera and a
journal's worth of experiences to quickly cram into 4 pages...

Groggo the Annoyer
I love Japanese monster movies... or better yet, I like the CONCEPT
or IDEA of Japanese Monster movies more than the actual movies
themselves. So I was trying to combine reality-show with monster
infomercial with city-wide destruction AND throw in some downfall
of a pseudo-celebrity while I was at it. Horrible Gelatinous Blob
from Futurama makes a cameo appearance as does a cartoon
version of Chantal on the bottom of page 11.

Sully & Surly
Stupid guys after stupid chicks, getting nowhere, but at least doing
it in an entertaining manner. As the fiery redhead says on page 18:
"Oozing is SO for losers." I couldn't agree more.

Thunderbirds are GO!
Christmas 2003 was marked with an unbelievable amount of snow.
I knew ahead of time how bad the weather was going to be, so I did
Christmas at Chantal's parents' house BEFORE Christmas and I even
dropped off presents at my Dad's house in case I couldn't make it
through all the snow. Well, I had PLANNED on staying home all day
and taping / watching the Thunderbirds marathon on
tecTV, but no, I was "abducted" by Dad and we had a great
Christmas experience / dinner at his friends' house. I DID still
manage to tape 12 hours of Thunderbirds, though.
All on video, baby...

Seksu Roba
I found out about this Japanese / Korean duo because they did
a remix on Tipsy's remix party cd. I looked up their web
site, contacted them, bought their CD online and I even invited
them to crash at my place if I could find them a gig in Worcester
(fat chance), or at least, if they'd perform a scaled-back show in
my dining room. Great trippy electronic lounge music with a kick.

Halo Lounge
Crissie found this great site. Now I want to drink at this cool club.

$1.98 Record Review Special
Stephanie wrote some quickie reviews of some J-Pop cd
she picked up somewhere. She's continually threatening to do a
massive expose on Japanese anime, J-Pop, items she's bought on
J-List.com or about the plethora of good things to say
about PRETZ. Hopefully she'll be writing all of this stuff
up and sending it off to me soon...

Super Friends / Justice League
3 pages produced out of sheer boredom and random internet searching
and to be perfectly honest, some of Action Geek's best stuff
comes from these random Googling sessions.

Holy Ship!
True story: I was up on Plum Island with Crissie. It was my first
time on a beach in the winter time. We were looking at this massive boat
that had somehow screwed up and ended up washed ashore on the beach.

Space Channel 5
Cute virtual grrrlz in a dance-themed video game. What more could
a true uber-geek designer dweeb ask for... except for maybe one of
them to pop out from the screen and be REAL... anyway...

New England Classic Gamers
Fun time at Christian's house, crammed to the gills with geeks,
nerds, oldschool videogame experts and boxes of stuff: games,
systems, joysticks, paddles, cords, peripherals and MORE...
They even had great stories about scoring holy grail videogames
for dirt cheap and getting away with it... or how Christian came
to be the owner of not only ONE, but TWO Vectrex systems.

Back Inside Page & Supplement
The inside back cover was written and created while at work,
listening to the level of panic grow & grow into a snowball
going down a snowy cliff re: the impending war with Iraq and
anti-terrorism tips and whatnot. THEN, my father sends me this
great random e-mail about how he's substituting his shower
curtain for the proscribed plastic sheeting and my mind went
OFF... I had to add this in somehow, but I'd already finished all
32 pages of AG17... SO I did a 4 page supplement AND I even
got a little ambitious and created an ADVERTISING 4 pager to
try to generate some actual revenue with this here comic'zine.

Wrap-Up
Well... I'm broke. I'm longing for Hong Kong bigtime with its great
people, clubs, shopping and 70 degree weather. I'm plotting and
scheming all kinds of trips this year: Montreal for Memorial Day
weekend, HK briefly in July, Las Vegas in August and back to HK
for New Year's in 2004. It'll take some creative non-spending and
some VERY capitalistic ideas on my part, but hopefully all of this
will happen, because the travelling bug has bit me hard and infected
me with a NEED for new sites, new vision and new experiences.