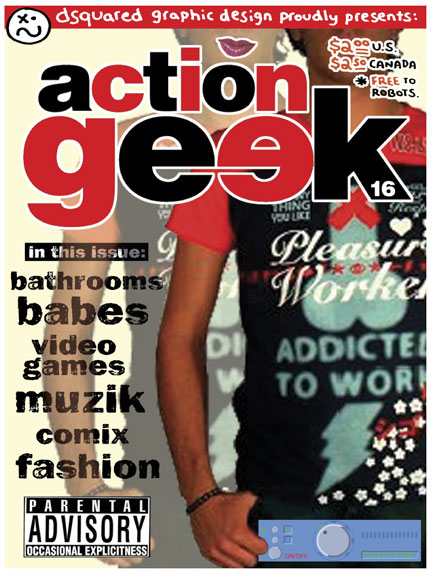 Behind-The-Zines #16
Action Geek #16 was in the planning stages and pre-production
even while Action Geek #15 was still being worked on. I knew I
wanted to do an issue that had a main focus on BATHROOMS, and after
explaining the reasoning behind this to people like Cheryl & Mary & others
I had several accomplices helping me in gathering stories, taking photos
and generally adding moral support in the creation of another issue...

The Covers
There WERE going to be THREE covers to this issue, but in the end, there's
just ONE. The other two covers were far racier and I was going to design
a kind of paperbag self-censoring thing, but I wanted to get this issue DONE
so I skipped all that fancy stuff... Those TWO covers will probably be used
in a future Action Geek when there's even more of a focus on the
hot chicks in my life, but let's stick to this particular issue at hand, ok?

Inside Cover
Traced art from an old World's Finest DC comic book, re-inked in
tradional Doug-style, re-colored, some old & some new dialogue and re-
formatted into the "montage" of sorts that you see now... I'm getting REALLY
hooked on old Lois Lane, Jimmy Olsen and old Superman
comics from the 50s & 60s, especially the ones with the "go-go checks"
on the top of the covers...

The Toilet Section
Pretty self-explanatory. The first two pages explain in more detail as to
WHY I decided to get all obsessed with bathrooms for this issue. MANY
cool bathrooms were left out, not for lack of merit or interest, but simply
because there was SO much stuff that I wanted to get into this issue, that
I could have easily gone beyond my 32 page limit (2 sheets, 2 sides of 11x
17 size paper). Sorry to: Vincent's (Worcester), X-Centris (Montreal), Tokyo
Bar (Montreal), Cheryl's house (Worcester) and many others...

The Story With No Title/Name
The 3-pager that starts off with a Doug in superhero tights is one that
could really run ANY time, but I thought I might as well go with it in
this issue especially in light of the fact that my social life has been
getting out of hand in a good way, not only because of it being Holiday
season, but because I'm becoming really good friends with my co-worker
Crissie and she's showing me all kinds of cool, new places (new
to me, anyway). I don't know exactly how it happened, but it seems I have
quite the cute grrrl posse of friends to go out on the town with or go
shopping with or just sit around and watch old movies with...

Diners
One BIG story in my social life right now that has gone largely played-down
in the pages of Action Geek and on the website is the fact that longtime
hangout for me Ralph's Chadwick Square Diner is changing owners.
Ralph sold to Vincent. Vincent own's Vincent's, another cool Worcester place.
Vincent used to work/manage at Ralph's and now he's back. The current staff
at Ralph's is bound to change, but I'm hoping that Vincent can breathe a little
new life into this amazing diner/club and further prove that he's the salt of
earth, and the perfect choice for new owner of Ralph's...

Holiday Art Fair
Basically a recap of sorts of the wART Holiday Art Fair thing held at
the Bijou Theatre in Worcester on a cold frosty Saturday. Basically,
Cheryl & I worked a combined table of Action Geek and Pottymouth
AND even Chantal's line of soaps, under the name Three Little Kittens
and we drank all day, talked up a storm, had alot of fun and made a bit of money.
More than that, I could see that Cheryl got really into the idea that people really
like her retro-fied pin-up grrrrl pillows, lightswitch plates, chairs, clothes, etc.
and she's working like crazy to continue selling more of her ART. I can't wait
until the NEXT big city arts fair...

JEEG again
I love this obscure Micronaut and it seems I'm not the only one.

W(and)LT clothing line
(why can't I make an AMPERSAND bold????)
In our continuing efforts to keep people abreast of some pretty WILD clothes
out there, here's one I found out about from the book FRUITS which has
lots of PHOTOS of Japanese people in VERY wild outfits...

Geek Theft Auto
I've never played ANY of the Grand Theft Auto games, but I'd like to.
My co-worker Andy is crazy of GFA and I invited him to write about it. I decided
to do my own variation on the graphics for GFA in the form of "Geek Auto Theft".
I'd LOVE to see a scaled-down, Atari 2600 version of Grand Theft Auto...

Stephanie's story Ever since Stephanie & I worked together at Newbury Comics in Shrewsbury,
we KNEW we had to someday collaborate, combine skillz, etc. and she's finally
come through with a great e-mail to me that not only sums up her growing
older, but also the lunacy of being fined for carrying an "open container" in
New York City. Hopefully, she'll continue to participate in future AG's...

Wrap-Up Hong Kong is a mere month or so away as of this writing, less than a week
before Christmas. I've been blessed this year with a strong, supportive crew
of friends who saw me through a botched relationship, many misunderstandings
and great joy from travelling, hanging out and partying til we dropped (usually
not all that late, cuz we're all getting old, but...).

I've become much better friends with my co-worker Crissie... I'm still friends with
Chantal, who I just helped move/relocate into her boyfriend's house. Cheryl &
I are routinely having what we call "business meetings" at Vincent's, Boston
Billiards, Goodfellas, etc. as we plot & scheme to get more of our art out there.
Mary is going with me to Hong Kong and we had many a great time travelling
and hanging out this year. Tamara & I have hung out a bit and she found a great
$8 Casio keyboard at the fleamarket with me... I could go on & on, but I'm just
glad that my friends have stuck by me...